Cart (

0

)
You qualify for a free gift!
Your cart is currently empty.
J. LINDEBERG | ROBBIE WILLIAMS | COLLECTION
Read on to learn more about the J. Lindeberg, Robbie Williams Collection
Iconic golfing fashion brand J.Lindeberg have teamed up with music icon Robbie Williams to create a special golf apparel collection - made to be worn both on and off the course. A photograph from the late '90s of brand founder Johan Lindeberg at a major tournament provided the inspiration and starting point for the range. In the iconic picture, Johan is on the golf course wearing an argyle slipover from one of the very first J.Lindeberg collections.
Neil Lewty, Head of Design at J.Lindeberg, says: "Robbie saw that picture on one of our first calls and immediately said, 'Let's do everything in bright pink.' He loves what we're doing as a brand – the attitude, the colours, the fashion sensibility – and we jumped at the opportunity to work with such a British icon."
Robbie Williams says: "I love golf and I love fashion. J.Lindeberg are on the cutting edge of both, so when I was asked to collaborate with such an iconic brand it was a definite yes. I've really enjoyed working on the pieces for the collection with them, and it will be so incredibly special to launch the range at the home of golf - St. Andrews - in July at the 150th Open."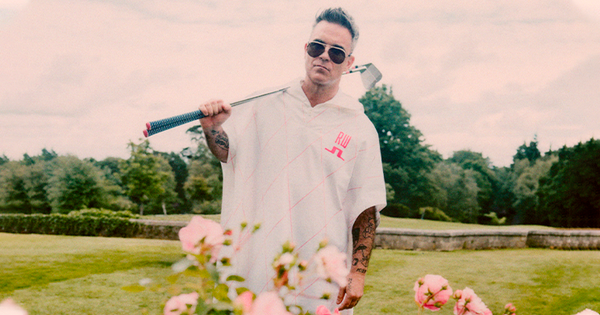 The result of the collaboration is a capsule collection comprising two hero looks for men and women respectively. The collection merges J.Lindeberg's progressive designs with Robbie's unmistakable fashion sense - creating pieces that can be worn on or off the course. Classic argyle checks are given a modern twist in the capsule range, and must-have pieces including matching polo shirts and shorts have a contemporary look. The collection also features cardigans, oversized rainwear and accessories such as bucket hats, all crafted from top-performing, sustainably sourced fabrics. In addition to the pink hues used throughout, the collection features a pattern made by merging the J.Lindeberg and Robbie Williams logos. The Robbie Williams collection launches during the 150th anniversary of The Open, held at the iconic St Andrews course 10-17 July 2022. An intimate launch event held at The Fairmont, which arguably has the best views of St Andrews Bay, will be attended by Robbie, Norwegian golfer Viktor Hovland and English golfer Zane Scotland. As always with J.Lindeberg, both the capsule collection and the launch event are about merging fashion and sport.