Cart (

0

)
You qualify for a free gift!
Your cart is currently empty.
PUMA's 75th Anniversary: Step into Style and Performance with Limited Edition Golf Shoes
Honouring Tradition with Iconic Design and Innovation...
In the realm of sports and fashion, few names evoke a legacy as rich and enduring as PUMA's. As the brand commemorates its 75th anniversary, it does so in a manner befitting its tradition of excellence: by introducing a stunning collection of footwear that seamlessly blends iconic sneaker style with golf performance. PUMA's latest release, a series of limited edition spikeless golf shoes, not only pays homage to its iconic sneaker heritage but also marks the milestone occasion with a vivid "For All Time" red colourway.
A Fusion of Style and Celebration
PUMA's journey has been marked by innovation, pushing the boundaries of design and performance across sportswear. Now, as the brand marks three-quarters of a century, it continues to redefine expectations with the introduction of these limited edition golf shoes. These shoes celebrate the brand's legacy while embracing the modern demands of the game.
At the heart of this collection is a captivating homage to one of PUMA's most iconic silhouettes. Melding classic design with contemporary functionality, these shoes are a testament to PUMA's ability to seamlessly fuse heritage with innovation.
Capturing Tradition in Every Detail
The limited edition spikeless golf shoes are a masterpiece of design, with meticulous attention paid to every element. The suede upper, a hallmark of PUMA's legacy, contrasts elegantly with the pristine white midsole, creating a timeless visual harmony. The incorporation of PUMA Gold detailing adds a touch of opulence, underscoring the celebratory nature of the collection.
However, the true magic lies beneath the surface. As the wearer slips their foot into the shoe, a custom printed insole serves as a personal reminder of the brand's enduring legacy. This thoughtful touch invites golf enthusiasts to step into the past while embracing the present.
While style is paramount, these limited edition shoes prove that they are more than just a fashion statement. PUMA has ingeniously transformed its iconic silhouette into a purpose-built golf shoe by integrating a hidden traction outsole. This innovation has been meticulously engineered to deliver unrivalled grip and performance across all terrains. Golfers can confidently navigate a variety of landscapes, secure in the knowledge that their footwear is optimised for their game.
What truly sets these shoes apart is their ability to balance performance with comfort. The hidden traction outsole doesn't compromise on the shoe's softness, ensuring a comfortable ride on harder surfaces. This fusion of technology and tradition embodies PUMA's commitment to delivering excellence in every aspect.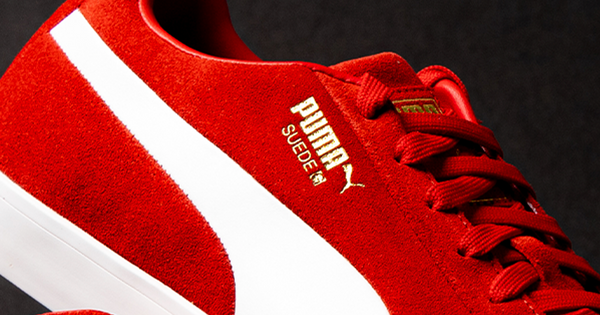 As PUMA celebrates its 75th anniversary, these limited edition golf shoes serve as an invitation for enthusiasts to be a part of history. Beyond the undeniable style and performance, these shoes encapsulate PUMA's journey, embodying its evolution from a footwear brand to a cultural icon.
Whether on the golf course or embracing the joy of everyday life, PUMA's limited edition golf shoes allow individuals to step confidently into the future while carrying with them the legacy of the past. It's not just a pair of shoes; it's a celebration of 75 years of passion, innovation, and style that have left an indelible mark on the world of sports and fashion. SHOP the shoes below.