Cart (

0

)
You qualify for a free gift!
Your cart is currently empty.
adidas Golf x Bogey Boys exclusive collection
Unveiling the latest limited-edition collaboration with adidas and Bogey Boys…
The world of golf fashion has experienced an exciting fusion of style and performance with the latest collab between adidas Golf and Bogey Boys. This unique partnership brings the timeless elegance of the Bogey Boys with the cutting-edge sportswear expertise of adidas, resulting in a fresh collection catering to fashion-conscious golfers and avid enthusiasts.
A combination of adidas' rich sporting and lifestyle heritage with pop-sensation Macklemore's Bogey Boys vintage and classic styling has resulted in a collection that seamlessly blends heritage aesthetics with modern functionality. This latest clothing range introduces traditional, clean, and sporty designs that provides golfers the chance to express their style both on and off the course.
"As the original sports brand, we've been designing products for sports like golf and tennis for more than 50 years. As we continue our mission to be the most progressive golf brand in the world, this heritage gives us the luxury of revisiting our extensive archives for inspiration. Those now-retro designs were inspiring to us, and we know that golfers are once again looking for products that present classic, clean, and bold aesthetics with an attitude. Macklemore and the Bogey Boys team were the perfect partners for this because of their love for vintage apparel and eye-catching designs."
 -  Dylan Moore, senior creative director, adidas Golf.
Consistently known for his iconic fashion wear, Macklemore has recently discovered golf and recognised the need for a fresh touch of style in the sport. The capsule superbly merges the worlds of golf, fashion and lifestyle into one fashion-focussed classic collection. Drawing inspiration from the 70s & 80s - this timeless capsule grasps the game's heritage and is produced with adidas' quality advanced performance technology fabrics. From retro-inspired patterns, vintage logos, and subtle nods to the game's historical traditions, this clothing line bridges the gap between old-school charm and modern sensibilities.
"This collab is a full circle moment for me and getting to be a part of the first apparel collection to use the Trefoil for adidas Golf is special. Taking inspiration from the iconic Originals brand and styles from the 70s and 80s is a perfect fit with Bogey Boys. I love how the entire collection turned out – premium and performance fabrics that you can rock on and off the course. Can't wait for this one to be out in the world."
- Macklemore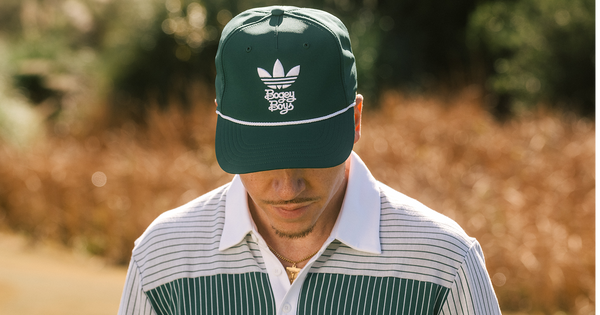 The latest collection from adidas is available now on Trendygolf.com, consisting of t-shirts, polo shirts, trousers, caps and even the new MC80 golf shoes, integrating the modern technologies designed throughout the adidas footwear range with a classic silhouette that includes a removable kiltie. The Bogey Boys x adidas Golf collection is a game-changer, redefining the boundaries of golf fashion with its fusion of style and performance.