Cart (

0

)
You qualify for a free gift!
Your cart is currently empty.
Curry Golf Collection AW21 | Under Armour
Learn more about this season's Under Armour, Curry Collection

Golf has long required athletes to adhere to a strict dress code, one often best suited to the traditional player. But over the last few years, the game has seen a resurgence — most notably during the pandemic — and with it a more diverse set of players embracing an expressive sense of style.

"You're starting to see a much younger group come on to the course, and that has helped loosen some of those longstanding restrictions," said Nathan Todd, Design Director of Performance Essentials at Under Armour. "It has really opened up the opportunity to be more creative, more exploratory, and more fun."

Todd has led development of NBA star and golf enthusiast Stephen Curry's Under Armour golf apparel since 2019, and continued in this role when Curry Brand, powered by Under Amour, launched its golf line earlier this year. Curry debuted pieces from the brand's latest collection in early July while playing alongside his father, Dell, and brother, Seth, in the American Century Celebrity Golf Championship Tournament.
"The inspiration for this new collection comes from my passion for the game and trying to fuse some culture and personality into what I wear when I play," Curry said. "There are a lot of fresh looks, so when you show up to the course — no matter where you're at — you look good and you'll turn some heads. But it also feels comfortable, and, from a performance standpoint, it's great to play in."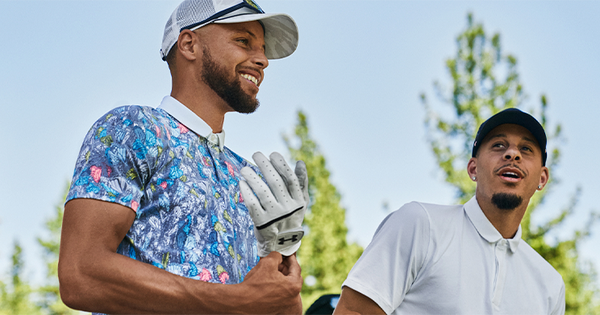 As with all collections under the Curry Brand golf label, the latest launch was designed to inject a new liveliness and style into the sport and complement the brand's broader efforts to improve access to the game in underserved communities. Unlike most other sports that utilise equalising uniforms, golf requires specific apparel that can act as a gatekeeper. Curry Brand, however, aims to make it a gateway.
"We're hoping that people see the streetwear trends being brought to the golf course through Curry's golf collections and gravitate toward these designs, silhouettes, and patterns," Todd added.

Todd and his team have collaborated with Curry to incorporate trending design elements into the Curry Brand golf line in an authentic way by creating apparel that sits at the intersection of street culture and traditional golf gear. Spanning polos, quarter-zips, trousers, shoes and hats, the latest collection offers a standard range of products, but their designs are anything but ordinary.
For example, the Curry Jogger offers a more fitted, training-like take on the standard golf trouser, and features Under Armour's signature elastic waistband with silicon grip to support performance without sacrificing style. Beyond fashion trends, the line also occasionally nods at Curry's basketball roots, like the new Banned Polo that mimics a basketball jersey tucked into shorts.
A few aspects of the latest collection, however, are completely unique to Curry. All the clothing labels feature the greater than and less than symbols (> <) that Curry has tattooed on his left bicep to represent the Bible verse from John 3:30, which states: "He must become greater; I must become less." The symbol can also be found in the taping detail on some of the collection's polos and joggers. In addition, the Mariposa Polo features a vibrant, abstract butterfly print inspired by the spirit animal Curry has given to his middle child, Ryan.

"We have monikers for all of our kids, and my daughter Ryan is the butterfly," he said. "It speaks to her free spirit and her energy for life, so it's pretty cool to see that inspiration come through in the line."
While clothing alone cannot solve the complex issue of increasing diversity in golf, it can help facilitate a more positive and inclusive environment in which all players can look, play, and feel their best.

"There's a big-time conversation happening now around how to invest in the game so that you're creating opportunity. There's no clear-cut plan on how to do it, but I think everybody's starting to ask the right questions to find out what those answers are," Curry said. "Part of it is making golf fun. There's a stigma around the game for being stuffy, being exclusive, and that makes it intimidating, so we need to make it more approachable by showing that you can have a great time with great people out there. There's a lot of work that needs to be done, but the awareness around this specific problem is at an all-time high, and that's the first step toward progress."