Cart (

0

)
You qualify for a free gift!
Your cart is currently empty.
Peace, Love and Golf | Nike PGA NRG Footwear
Read on to learn more about these limited-edition shoes...
Save the date: Thursday, August 6th 8am BST *
Major golf is back! After over 380 days of waiting, the world's best are heading to TPC Harding Park in San Francisco to battle it out for the Wanamaker Trophy. It wouldn't be a major championship without special release products and Nike have excelled themselves with four silhouettes launching over the coming days.
The Nike "Peace, Love and Golf" Collection pays homage to the city of San Francisco and its historical significance to the hippie movement.
The collection features four top Nike model shoes benefitting from all of the design features we've come to know and love, as well as being doused in spirited tie-dye patterns across the shoe with "PEACE" and "LOVE" printed on the soles through the translucent rubber. You can expect to see PGA TOUR stars Brooks Koepka, Rory McIlroy, Jason Day, and more, lace up these stylish shoes this week.
As with all NRG release styles, quantities are limited and we recommend setting an alarm and signing up to our email list ready for launch.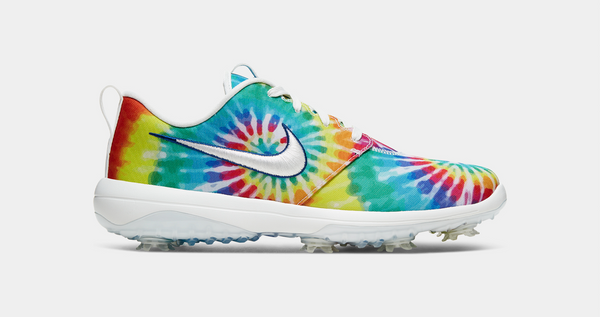 * Due to Nike shipping regulations we are unable to ship their products outside of Europe. Please do not order these shoes to addresses outside of Europe as your order will be cancelled and the money refunded.