Cart (

0

)
You qualify for a free gift!
Your cart is currently empty.
RLX x TRENDYGOLF | Bandana Collection
Introducing the RLX x TRENDYGOLF Bandana Collection, a fresh and exclusive collaboration ready for the fairways...
Introducing the TRENDYGOLF x Ralph Lauren Bandana Collection. This collection is a nod to the heritage of the iconic Ralph Lauren brand, combining classic Americana style with modern surf and golf trends. Featuring lightweight, breathable fabrics and a bold bandana print throughout, the collection is perfect for those looking to make a statement on the course and off. With a variety of silhouettes, from polos and shorts to jackets and hats, this collection has something for everyone. Whether you're hitting the waves or teeing off at the course, this exclusive capsule is sure to keep you looking and feeling your best.
The classic Americana bandana theme pays homage to the timeless style of vintage Ralph Lauren. The lightweight fabrics are perfect for a beach day, allowing the wearer to stay cool and comfortable while still making a statement. The bright blue colour and bold pattern add a playful touch, while the classic design nods to the sophisticated style Ralph Lauren is known for.
Whether you're heading to the beach or just want to add a touch of vintage flair to your outfit, the Americana bandana theme is a perfect choice.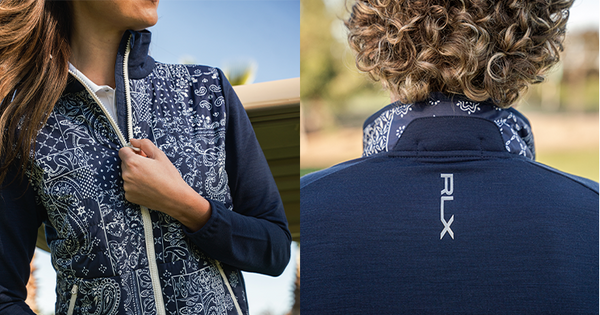 This exclusive capsule collection is the perfect combination of performance and style. Crafted from lightweight, breathable fabrics, the pieces will keep you cool and comfortable on the golf course. The bold navy bandana print is sure to make a statement, while the sophisticated styling ensures you look your best. With this collection you can improve both your style and your swing.